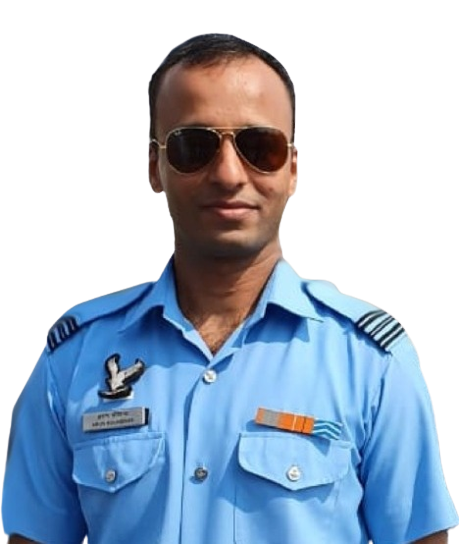 FROM THE STREET TO THE SKY SOARING HIGH – ON THE WINGS OF HOPE
In June 2011, on his 24th birthday, Arun Koundinya became a commissioned officer in the Indian Air Force. Looking at this brilliant, active & fun-loving young man, one would think he is a product of one of those high-profile public schools. Far from it. The fact is that his childhood and adolescent years were nothing more than pain, anxiety, uncertainty and struggle.

Arun's family broke up when he was hardly four years old. His father, S R Koundinya, was a brilliant, well-read man and worked as a freelance journalist in Hyderabad. He brought up Arun and his elder sister Sarah.

Arun was very fond of trains. One day when he was around 8 years old and in Class II, he bunked class and went to see the railway station, along with a friend. The AP Express was about to leave the station. Arun and his friend jumped into the train and the train chugged off with them! They got down at Nagpur, some 600 km away. They enjoyed the journey and were so excited!

At Nagpur station they roamed around for a while. It was all fun! They had brought with them some money. They were then planning how to go to Delhi when the railway personnel rounded them up and took them to the State Children's Home in Nagpur. The authorities of the Home tried to trace the children's families, but they failed.
Meanwhile, back in Hyderabad, Arun's father S R Koundinya was frantically searching for his lost son. He visited children's homes in all parts of the country. It was on one such journey that he happened to come to Don Bosco Navajeevan Bala Bhavan – a network of shelter homes for missing and runaway children in Vijayawada. It was there that he met Fr. Thomas Koshy, its Director. Fr. Koshy offered him all possible help. In fact, he made a lot of efforts to search for Arun through the network of Don Bosco Institutions all over India. Koundinya was so impressed by the efforts Fr. Koshy made to trace his lost son, that he kept up the contact with Don Bosco Navajeevan and Fr. Koshy.

Arun was, in the meantime, feeling very worried and sad. He was missing his father so much! He and his friend spent about a year in the government home in Nagpur. One day in 1996, they escaped from the Home and after walking a long distance, reached a railway station. Then they boarded a train and came straight to Hyderabad. He then started looking for his father in the station and the surrounding areas. Being a small boy and having been away in a faraway place for over a year, Arun couldn't trace his way back home. Arun lived on the platform for a few days, hoping that he would somehow meet his father. And finally, one day, he did! His father had come there looking for his missing son! It was the end of an exhausting, year-long search.

After returning home, Koundinya took Arun to meet Fr. Koshy at Navajeevan, Vijayawada. During that meeting, Fr. Koshy suggested that Arun and his sister could be enrolled at a Don Bosco boarding school at P.T. Parru, near Guntur. Thus, Arun and Sara began their studies there.

In 1997, Koundinya died suddenly of a massive heart-attack. Koundinya was a kind man and helpful to everyone in the neighbourhood; hence everyone in the area loved him. The neighbours also knew how close Koundinya was to Fr. Koshy. They contacted him at once and informed him of his death. Fr. Koshy reached the spot immediately and stayed there till the cremation was over.

After all the religious ceremonies were over, the neighbours took Arun and Sara to Don Bosco Navajeevan and entrusted them to Fr. Koshy. After keeping the children at Navajeevan for some time, Fr. Koshy arranged to admit Arun & Sara in Don Bosco Boarding School, Ravulapalem, in Godavari District. Arun was admitted in Class 5 and Sara in Class 7 in June 1998.

In the meantime, Fr. Koshy made efforts to search for their mother and finally, he succeeded. She was living in Delhi. She came to meet Fr. Koshy and the children. She kept regular contact with the children. During holidays, the children used to go to Delhi and stay with their mother. In fact, when Sara completed Class 10, she went back to her mother in Delhi and continued her studies there.

However, Arun made Don Bosco Navajeevan his home – the teachers, staff members, Anu Aunty, Fr. Koshy and others became his family members. He completed Class 10 with 76 % marks in 2003. Thereafter, Fr. Koshy put Arun in Loyola College, Vijayawada for his Intermediate studies. He stayed in the college hostel and in 2005, completed his intermediate with 78%. Next, he enrolled to study Aeronautic Engineering in Indore, Madhya Pradesh. Unfortunately, the College at Indore was undergoing a lot of academic and administrative problems and so after about two years of study, Arun wound up the course there and returned to Navajeevan. Arun then completed a BSc Degree in Mathematics, Electronics and Computer.

Fascinated by the Air Force, Arun responded to an IAF newspaper advertisement for Ground Duty Officers Course (GDOC). He cleared all the exams, was selected merit and joined the course at Air Force Academy, Hyderabad. On 18th June 2011, he completed the training and became a Commissioned Officer in the Indian Air Force.

Arun now says: "All that I am, I owe to Don Bosco Navajeevan; to various people at Navajeevan, like Fr. Koshy, Anu Aunty and others. It is true that I applied for jobs, wrote the exams etc. But without the support of these persons, I would not have reached where I am today. At a time when I was going through hard times, it was Don Bosco Navajeevan that supported me, sustained me, motivated me & stood by me". Navajeevan Student now a Govt. Employee
Lingam Anand, a Govt. employee is one of the gems of Navajeevan. He became a Probationary Bank Officer at the age of 24 in August 2016 against all odds in Indian Bank at Kelamangalam in Tamilnadu. His aspiration was to get a secure job and give a secure life to someone like him.

Anand became a role model for the rest of the students to excel in studies, to equip with the knowledge of all the related subjects and current affairs to appear for various competitive exams to settle in life with Government jobs. He was an industrious, sincere and studious student at Learning Space, a centre meant for special coaching for the students to appear for Bank exams and related posts. He completed B. Tech in Electronics and Computer Engineering (ECE) through Navajeevan. The family of Navajeevan Vijayawada congratulates Anand and wishes him a great life career ahead. (This article is further developed basing on previous Newsletter). MASTER MUPPALA KIRAN – A GENIOUS STUDENT & SON OF NAVAJEEVAN, VJA.
Muppala Kiran kumar, a student of Navajeevan Bala Bhavan, who studied Bi.P.C at Chaitanya College, Nandigama, stood topper of three of the Mandals-Nandigama, Kanchikacharla and Jaggaiahpet of Krishna Dt, Andhra Pradesh, India with 975/1000 (97.55%) Marks in AP intermediate results of 2015-2016.

We are very proud to state that this rare and unique record created a historical achievement, which ever happened in the annals of Chaitanya College, Nandigama in the past twenty one years and moreover in the above mentioned tri-mandals.

He came to Navajeevan in the year 2009 for the support of education. He also stood topper in class X, RCM School, Pezzonipet at with 92% and in first year of Bi.P.C with 97% (427/440). He is known for his hard work, intelligence and simplicity. He is very silent and humble. He says that "I can do everything and nothing is impossible for me".

As we congratulate this topper, we continue to wish him a great success in his budding future and pray that his goal may be achieved and realized. In addition to this marvelous result, we also congratulate the rest of our students who performed extremely well in these exams. M. Kiran, topper of Chitanya College
M. Kiran, a student of Navajeevan Bala Bhavan stood topper of Chaitanya College, Nandigama with 425/440 Marks in Bi.P.C Intermediate first year results of 2014-2015. He has created a record breaking historical achievement since 20 years in this college and over the other colleges in Nandigama, Krishna Dist. He came to Navajeevan in the year 2009 for the support of education. He also stood topper in class X with 92%. He is known for his hard work, intellectual capacity and simplicity. He is very silent and humble. He says that "I can do everything, nothing is impossible for me". We wish him a great success in his budding future. Similarly, Navajeevan students of Intermediate, Class X and (Open X Class) Andhra Pradesh Open School Society (APOSS) did extremely well in the respective annual exams and entrance exams like APRJC and EAMCET with the ever achieved highest pass percentage with top ranks. Hearty congratulations to all these toppers and studious students. His name is K. Sagar. He is 18 years old boy. His native place is Chinthalapudi Village, near Guntur, Andhra Pradesh. He is an orphan boy. His parents expired when he was very young due to ill-health. His grand-mother started caring this boy. Due to bad economical situation, she brought him to Navajeevan for education help. After home enquiry, Navajeevan joined him in Intermediate Course (10+2 course) in a college at Vijayawada. He is studying well and good in behavior. Recently he felt pain stomach and could not sleep properly. At once infirmary staff took him to New Government General Hospital, Vijayawada. After diagnosis, doctor suggested for Hernia Operation. The surgery was successfully performed in May 2014 and now the boy is very happy and thanks to Navajeevan for timely surgery. At present the boy is studying Graduation 2nd year (B.Com) in KBN College, Vijayawada. Gangula Jayachandra hails from Darsi, Guntur. His father passed away and mother is sick. His mother approached Navajeevan for educational support. He successfully completed class X with 90%. Now he achieved 95% in Intermediate. He acknowledges his gratitude to Navajeevan Bhavan for the achievement. He says if there was no support from Navajeevan Bala Bhavan, he could not have faced the world. Gaddala Venkulamma hails from Gosaveedu Village in Krishna District, Andhra Pradesh. Her father died of cardiac arrest last year. Her mother suffers from kidney ailment and the doctors informed that she cannot survive more than a year. At this point of time, her mother approached Navajeevan for educational support. She successfully completed class X with 92%. She secured college 1st with 90% in MPC intermediate. She thanks Navajeevan for the great support in educating her otherwise; she should have been domestic labourer. Her family thanks Navajeevan for the timely support. awada and earning Rs. 6000/- per month. Now I am staying with my family and they are proud of me. Navajeevan has given me a New Life. Now I am on my own: I am P. Mahima Raju. Millions of thanks to Navajeevan Bala Bhavan. I ran away from home as I was not interested in studying. I was rescued by Navajeevan in the year 2012. I ran away several times and Navajeevan always welcomed me with open arms. Finally I decided to learn to Carpentry. I completed my training here and now I am working as an operator in wood carving at Vijayawada and earning Rs. 6000/- per month. Now I am staying with my family and they are proud of me. Navajeevan has given me a New Life. 'I can SEE new world now' says Dammisetty Durga, a 14 year old Navajeevan girl. She had a blood clot in the retina and could not see clearly. She underwent Electrical Laser treatment at LV Prasad Eye Hospital, Tadigadapa on March 20. Thanks to the efforts of the doctors for restoration of Durga's eyes. I am Devara Suresh Nayak from Adilabad Thanda. I ran away from home following the death of my father as my mother did not care for me. I started my street life since then. After many years, I became the King of Street. I was caught by the Police at Warangal and was referred to Vijayawada. Through Child Welfare Committee (CWC), I came to Navajeevan Bala Bhavan. Here I started thinking of my life. I was motivated to join Vocational Training. To my interest, I picked up Electricals and Plumbing Trades. On the success of this course, I am now working as a daily wager at cooling section of Railway Station, Vijayawada. My dream of working as an Electrician is becoming true as I am very soon would be joining local Electrical Workers Association. I am Bantumilli Durga, 15 years old. My both parents died when I was very young. I am from S.Kota, Vizianagaram distrist. My mother died when I was five day old baby. And my father died when I was 15 years old. I have an elder sister, who was also supported by Navajeevan Bala Bhavan. I was rescued by BVK (Bala Vikasa Kendra) field staff of Navajeevan while wandering in Auto Nagar Industrial Area, Vijayawada. Today I am proud to say that I secured college first in the intermediate exams under the continuous care of Navajeevan. I want to become a doctor and serve poor people who are in need of support. Now I am preparing to appear for EAMCET and become a doctor. Thank you Navajeevan for helping me stand on my own and being with me to start my life from the scratch. My name is Gangula Jaya Chandra. My father died with HIV/AIDS. My mother is also infected with HIV and she is a domestic worker. I am the native of Darsi Village, Prakasam district. I have a younger brother, who completed 10th class in Navajeevan Bala Bhavan. My family is economically poor and deprived of support. I have a dream to become an Engineer right from my childhood. Therefore, I have been always securing the highest marks in very level of my studies against all odds in my family and my personal life. I am now preparing to write EAMCET and join in Engineering. I am able to achieve my dream because of Navajeevan, which I treasure it as a gift for me. It has given me new life and I will remain thankful to all those who have been supporting me to realize my dream. I am Chantamma, worked as a child labourer till the age of nine. Today, at the age of eighteen, I am doing Engineering in the prestigious Indian Institute of Information Technology (IIIT), Nuzivid, and Andhra Pradesh. "It's all due to Don Bosco Navajeevan, Vijayawada and Fr. Thomas Koshy". I was born in a small village of Chigudipadu in Krishna District of Andhra Pradesh. My father Kantha Rao and mother Lakshmi Kandamma were both agricultural labourers. As a result, I had no time to go to school. I was rescued by staff of Navajeevan Bala Bhavan and I was admitted to the residential Bridge Course for girl children called Sethu. I had to begin with the alphabets. Now Navajeevan is providing me all the necessary support towards my education.